BRIEF HISTORY OF OUR CHURCH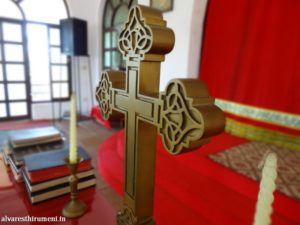 Our first Holy Qurbana was conducted in Bambolim Military Chapel, in 26-1-1966,with a few of our people. From September 1966 onward Holy Qurbana was  celebrated once in a month on a regular basis till may 1972, except for a short break in 1970
In those early years ,the services were conducted in St Inez Church and in the Bhatlem chapel.
In 17-1-1967 the metropolitan of outside Kerala Diocese,His grace Mathews mar Athanasios (late Catholicos of the East ,H.H. Baselios Mar Thoma Mathews I) visited Goa and established a congregation named it St Mary's Orthodox Church Panjim. During his stay in Panjim his grace conversation with the then vicar of St Inez Catholic Church revealed that mortal remains of bishop Mar Alvares Mar Julius the first bishop of outside Kerala diocese lay buried in a cemetery just behind the St Inez Church, where our Church celebrates the death anniversary of Bishop Alvares Mar Julius on September 23rd of every year
Efforts were made for construction of a Church of our own. Accordingly a plot for the church site was purchased in Ribander and the foundation stone laid on 23-9-1973, on the 50th Death Anniversary of Bishop Alvares Mar Julius. First services were held in the church during the Holy Week on April 1979. The relics of the Late Lamented Bishop Alvares Mar Julius were translated to church on 7-10-1979 and the church was consecrated on 7-2-1982 by H.G Dr.philipose Mar Theophilius Metropolitan of the Bombay Diocese.
The book titled Patriot and saint on the life of the Late Lamented Alvares Mar Julius written by Dr. carmo Azaveddo, who had seen the real life of Bishop Alvares Mar Julius ,was released at the hands of H.G Philipose Mar Theophilius on 25-9-1988.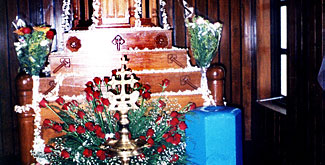 Till date, two more books are written on the life of Late lamented Alvares Mar Julius. First one, titled Martyr of Goa by Prof.D.Mathew Kozhencherry Kerala, published in January ,2009 and second one ,titled Lamented Alvares Mar Julius by Mr.George K Kurien ,Goa,published in March 2010
After the completion of our first church ,we had Holy Qurbana on 2nd,3rd and 4th Sundays,of every month. Besides ,holy week ,Christmas,new year services. Remembrance Feast of Late Lamented Alvares Mar Julius is celebrated on Sunday ,following 23rd September,and the perunal on the 4th Sunday of November
Mar Alvares Julius charity fund has been institutes to render help to the needy and to give scholarship to poor students.
The church affairs are run by Managing Committee Members,who are elected annually  by the general Body .(Ref.silver jubilee Souvenir 19-1-1992)
Present church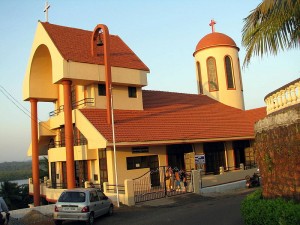 Old church was demolished on 5-51998.During that time,Holy Qurbana was conducted from June to 3rd September  1998(Sunday ) in the chapel attached to Ribandar Hospital(present a MBA institute ).from 4th September 1998 (Sunday) on wards ,we conducted our regular services in the basement (parish hall)of our church.
Consecration of our new church was conducted on 5th & 6th October ,2001, celebrated by his holiness Moran Mar baselios ,Mathew II (Catholicos of the east ).with the presence of his grace Thomas mar Athanasious,his grace Geevarghese Mar Cooriolos and vicar Rev Fr P C Thomas, Ex. Vicar Rev.Fr.T.E Isaac, Rev.Fr.Geevargese Iype and other Rev.Fathers and parishioners.
The church is declared a pilgrim center through Kalpana Didymus I,Catholicos of The east and Malankara Metropolitan ,by H.G Geevargese Mar Coorilos Metropolitan  Diocese of Bombay
Our Other Activities:
1. We do conduct medical camps for the poor and needy of the neighboring places
2. Felicitation of Meritorious students of std. X& XII
a) It is decides to felicitate std.X student who scores highest mark in final examination,(minimum 1st class is needed) with a a cash award of Rs.501/- (rupees five hundred and one only ).
b) For std. XII student who scores highest marks in Arts,Science & Commerce Stream in Final examination, will get a cash award of Rs,501/- (rupees five hundred and one only ).
The students have to submit the attested marks sheets from the head of the institution for considering their cases.in both the cases Cash prizes would be awarded only to the children of permanent members of the church.
3. Church gives a holy Bible to newly married couples of the church (permanent members )