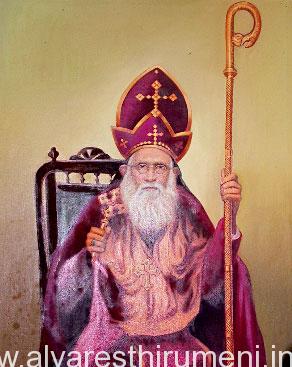 HIS GRACE ALVARES MAR JULIUS
METROPOLITAN OF GOA, INDIA & CEYLON
(1889-1923)
Alvares Thirumeni was born on 29th April, 1836 at Verna, Goa. Thirumeni ordained as a priest in 1862 at Bombay. He was consecrated as Bishop on 29th July, Â 1889 at Old Seminary Kottayam by H.G Geevarghese Mar Gregorius, Parumala, H.G Pulikotil Mar Dionysius and H.G Kadavil Mar Athanasios. A great humanitarian missionary and patriot. He was the first Metropolitan outside Kerala Diocese.
Thirumeni entered eternal abode on 23rd September, 1923 at Ribander, Panaji,Goa. The tomb of thirumeni was discovered on 17th January 1967 from Municipality Cemetry, St Inez, Panaji, Goa by H.G Mathews Mar Athansios, (later H.G Baselious Mar Thoma Mathews Catholicos of the East)
The Holy Relics was translated from Municipal Cemetry to St Mary's Orthodox Syrian Church Ribander Panaji,Goa by H.G Philipose Mar Theophilus Metropolitan of Bombay and Ankamaly on 5th October 1979.