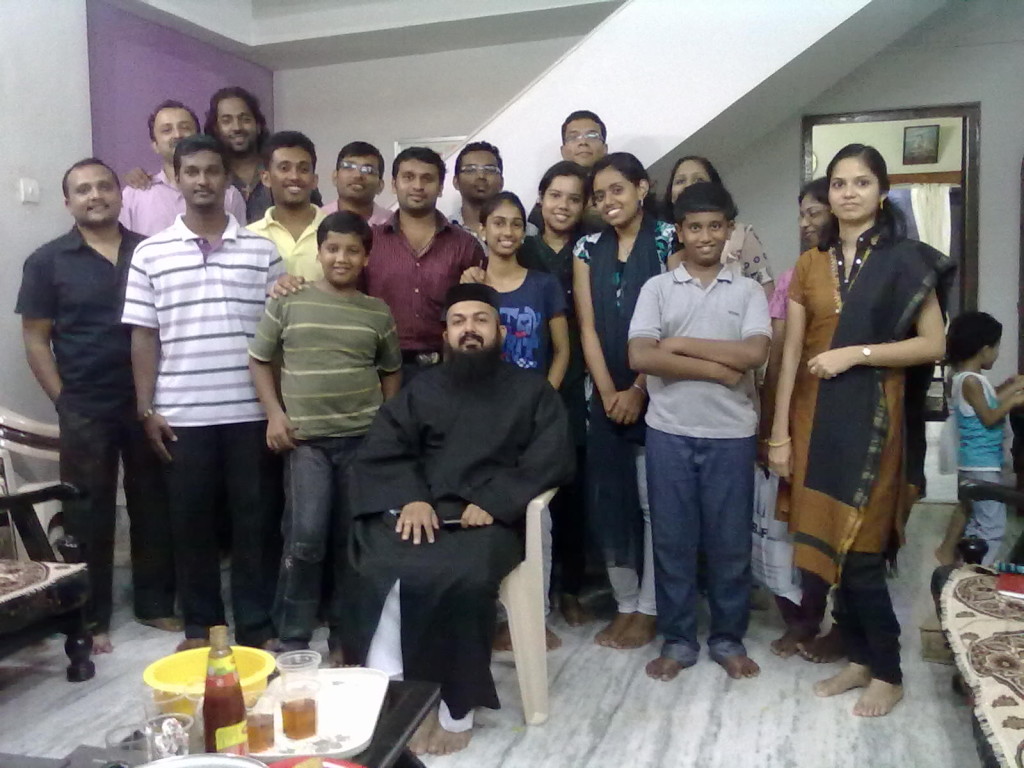 [In the quest to initiate activities,our vicar Fr.Varghese Varghese came up with the idea of organising"FELLOWSHIP MEETING" at every MAYM member's residence,once in a month.It was unanimously accepted by the MAYM members.]
The evening of 13 August began with a prayer led by achen.Then he expressed the feeling,that the 

'fellowship meeting'

 was the ideal platform 

for interaction and to strengthen the relationship among the MAYM members

.He stressed that we should grow in love and peace,acquire the richness of our spirituality and become moral embodiments of the Malankara Orthodox Sabha. He also opinioned that it was necessary to develop measures which could help the society as a whole.
In this time-frame,it was detected that there was lack of interactive communication among the MAYM members.Thus,an activity was conducted which involved informal i.e casual introduction of oneself.It began with achen,who talked about his life experiences and also offered concern about how today's youth is diverting from the 'life of christian suffering.'Similarly each individual introduced him/herself,opened out his/her experiences and provided suggestions on 'Youth-life and living'.The atmosphere was filled with humour,emotion and entertainment.There was a sudden sense of warmth and unity.Later, refreshments were offered.To make the atmosphere even cosier,the MAYM group sang two christian melodious songs which was supported by the organ.Before parting ways the vicar thanked all who could make it to the meeting.Also,he earnestly thanked MAYM for making the first fellowship meeting a grand success.
We thank Mr.Sanesh and fly for granting us his residence for the meeting.
For members who could'nt make it to the first meeting,please give it a try next time.
The next MAYM Fellowship Meeting will be held at Mrs.Sibi's residence on 10 Sep 2012 at 7:00pm